Elastic Tapes
2012-06-19 10:38:58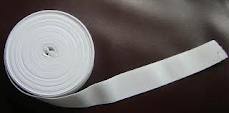 Elastic Tapes
or elastic adhesive tapes are perfect for medium strength limb support and compression jobs. If you need to wrap or secure wound dressings, these elastic adhesive tapes are simply perfect for the task. Elastic tapes are normally made from reliable durable materials that can provide comfort and security to the afflicted areas that requires support or dressings.
The elastic fabric backing gives it the ability to conform to the body making it extremely flexible and accommodating when you are moving around with it. This makes it ideal for athletes and patients who need adequate support that does not restrict their movement unnecessarily. The tape is made from high twist cotton elastic cotton that is hypoallergenic so you should not have to worry about this if you have sensitive skin. It also reduces friction with the skin and minimizes irritation.
Elastic tapes are used in mastectomy and other medical procedures as well. Due to their highly elastic nature, these tapes can be used to support strapping, fractures, assist in the recovery of muscle injuries from sports or other vigorous activity.
Today, these elastic tapes are being used widely in hospitals, clinics and medical offices. It is disposable which makes it very convenient to use under all circumstances to reduce the risk of spreading infection from one person to another. It keeps wounds safe and protected from new infections caused by bacteria and fungi. After a wound or cut has been thoroughly cleaned, the least tapes can be used to hold the dressing firmly in place. Most of the time, patients with less than serious injuries can return to work and move around comfortably as these elastic tapes do not hinder movement in nay way. They conform nicely to the shape of the body parts and provide silent support and protection.
Elastic tapes have been widely used in the sports arena as well. Injuries and sprains are common around here and this is where this handy tape comes in to the rescue. It can be placed firmly on any body parts and should not restrict movement in nay way, so an athlete's performance should not be severely affected when using these elastic tapes. Some athletes prefer to wrap up a foot or a portion of the leg that actually gives added support and strength tot eh muscles. The results can be encouraging indeed. It would greatly reduce the risk of further injury and may even improve an athlete's performance.
---